If you're coming up to Door County for the many festivals, attractions and scenic adventures this spring and summer, please be aware that the Bay View (Highway 42/57) Bridge will be closed for repairs and maintenance which began on March 4, 2013.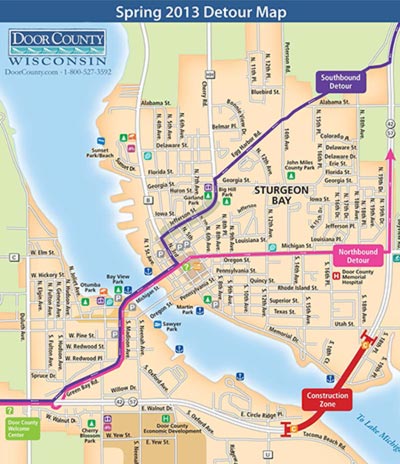 The Wisconsin Department of Transportation will be resurfacing the Hwy 42/57 (Bayview) Bridge in Sturgeon Bay from March 4 until July4, 2013. There is a detour route through Sturgeon Bay to reconnect to the highway in the northern part of the city. This detour will be clearly marked and easy to navigate. The detour should only add a minimum amount of time to your travel plans.  WisDoT created a PDF map highlighting the detour route that can be downloaded here or by clicking on the image below.
Though this is just a temporary inconvenience, it shouldn't prohibit you from enjoying the sights on the way up to Birchwood Lodge in Sister Bay.  Drive carefully, follow the detour signs and we'll see you soon!