Referral Rewards
Where we thank you for spreading the word!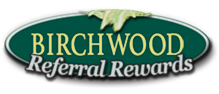 We often get so busy taking care of our guests that we forget to thank you for the referrals you have sent our way. Thank you for spreading the word!  We have an additional way to show you our appreciation for your praise and recommendation to us. It is called the Birchwood Referral Rewards Program.
If you are interested in participating in our referral program, stop by the front desk and ask a clerk for a Referral Program Card. The front desk clerk will issue a referral card in your name. You then give this to a friend, neighbor or relative that you would like to refer to us.
Let them know that your name on the card entitles them to a 10 % off their first visit to the Birchwood Lodge. The referral card must be presented to us at time of check in registration.
Every time a new guest presents us with a referral card with your name on it, you will receive 5% off your next visit! Should you need additional referral cards please contact the front desk at 1-866-854-7195. Some restrictions may apply. This offer is not valid through Pumpkin Patch Festival, Fall Festival and other recognized holidays. Only one card may be used per stay. Referral cards may not be used in conjunction with any other discount (AAA or AARP). Thank you very much for your referrals, and don't forget to pick up your referral cards when you stay at Birchwood Lodge!
Call 1-866-854-7195 or email [email protected] with questions.